A Step-By-Step Guide to Stay Safe and Covered this Hurricane Season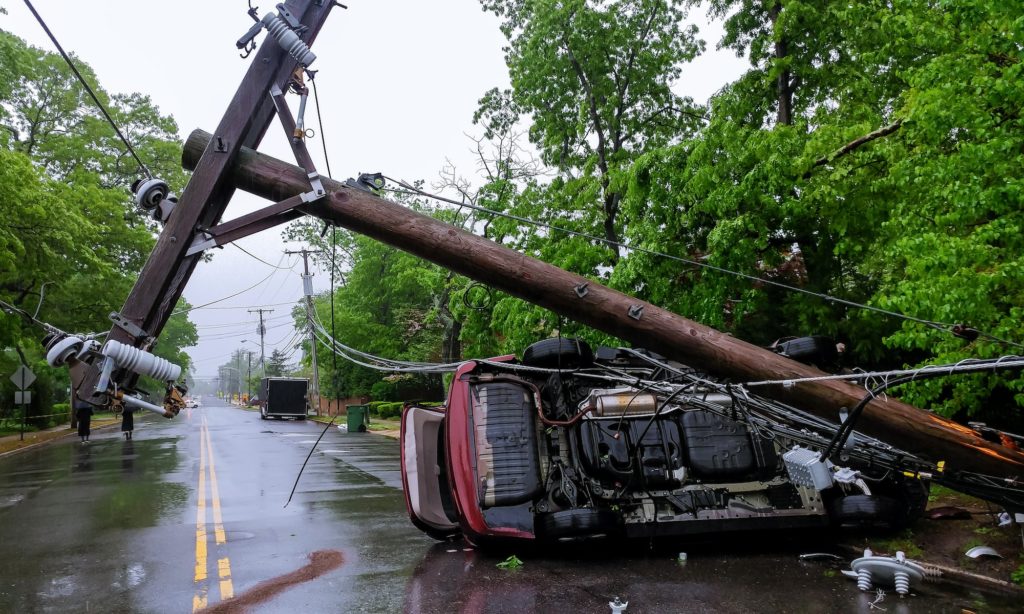 Living in the sunshine state has a lot of perks but it also includes some not-so-fun aspects, like hurricane season. And before a hurricane points in our direction, you'll want to be sure your family and home are prepared and protected in the event disaster strikes. Being adequately prepared could mean the difference between personal financial ruin and letting your insurance take care of everything. 
Hurricane season 2022 is predicted to have up to 20 named storms, eight hurricanes and four major hurricanes — and after 2020 and 2021, ain't nobody got time for that. And living near the coast makes our community even more susceptible to risk of severe damage from a hurricane.
We want you to be as prepared as possible (both safety-wise and financially), so we've put together a comprehensive guide to help you prepare for this year's hurricane season.
Call your insurance agent

Home owners — make sure your insurance policy is adequate in the event severe weather strikes. Check to see if you have wind and flood protection. Also check your policy limits and consider increasing them as lumbar and construction costs have gone up significantly over the past two years due to the COVID-19 pandemic. 
Renters — if you're renting, renters insurance may help pay to repair or replace your belongings if they are damaged by a storm. For as little as $15 a month, you can get thousands of dollars in protection. Give us a call and we will make sure your personal property is adequately protected before severe weather impacts our area. 
Make a plan
Create a master emergency checklist that includes items to stock up on as well as tasks and checks that need to be done before a hurricane. 
Have a checklist that includes waterproofing important documents and valuable personal belongings to keep them safe. Know where they are so that you can quickly grab them in the event you need to evacuate.
Download an app to make your checklist easy to access and shareable. We recommend the "Supplies — home inventory app" which has a helpful multiple lists feature that also provides locations of where items are in your home. 
Be sure your checklist includes checking on elderly family members or friends to ensure they are also prepared ahead of the storm (consider printing a checklist for them).
Plan an evacuation route and what you'll do with pets.
Stock up on emergency supplies

Buy the most in-demand supplies well before a hurricane is coming our way: gas cans, flashlights, batteries, a generator, water, and non-perishable food items.  
Create a checklist of your emergency supplies and keep them in an accessible location (or write down where they are located). CLICK HERE for a hurricane safety checklist from RedCross.org.
We rely on electronics more than ever, so it's a good idea to ensure you have several battery sources charged and ready to go for everyone's cell phone. Make sure you have the appropriate accessories needed to recharge them in your car, in case power is out for several days. 
Pack a "Go Bag" in case you need to evacuate: items to include should be clothing, hygiene supplies, medications, first aid supplies, cash, power bank to charge cell phones, and a list of important items you would not want to leave behind.  
Prepare your property
Create a home inventory — having a home inventory will help the claims process if you experience damage to your home. Take photos of every room and make a list of all higher-value items. Be sure to update your inventory list after making any significant purchases. 
Secure your home by installing hurricane shutters. Permanent storm shutters will offer the best protection but 3/4 inch thick plywood boards also work well.  
Take a look around the outside of your home and remove any items that that could potentially become projectile in hurricane-force winds, such as dead tree limbs, trash cans or outdoor patio furniture. 
Figure out a safe space to go within your home in the event weather deteriorates rapidly. This safe space should be a small interior room in the home that is free of windows or glass doors. A closet or hallway on the lowest level is the best place to be during a storm. 
Helpful apps to download ahead of the storm

During a storm, support and information are critical. Keep a list of important apps to download as soon as a storms heads our way. Helpful apps for storm preparedness: 
Hurricane: American Red Cross
FEMA
Clime: NOAA Weather Radar Live
GasBuddy: Find & Pay for Gas
Next-door: Local Neighborhood
Venmo
Just before a storm hits
Track the storm path and prepare for the time of day that conditions will begin to deteriorate. 
Fill your car and gas cans up with gas.
Turn your refrigerator and freezers to the coldest setting and keep them closed so that food won't go bad as quickly if you lose power. 
Make sure your phone is fully charged and that you have a backup power source. 
Check in with relatives and friends who are also in the storm's path to ensure they are safe and prepared.  
Talk to your children — if you have small kids, explain to them what a hurricane is, what you will do during the hurricane, and listen to their questions. Limit their exposure to television storm coverage and constantly remind them that they are safe and protected.  
Recognize Alerts
Hurricane Watch: tropical cyclone winds of 74 MPH or greater pose a possible threat
Hurricane Warning: tropical cyclone winds of 74 MPH or greater are expected within 24 hours
Tornado Watch: conditions are favorable for a tornado 
Tornado Warning: a tornado has been spotted and you need to get to a safe space immediately
Classic Insurance cares about you and your family's safety and wellbeing — you are an important part of our community. While we can't predict how hard our community will be hit by a storm, we can help you be prepared financially in the event disaster strikes. We are here to help. 
Please feel free to reach out one of our many experienced insurance agents at (850) 332-5717 with any questions you may have regarding hurricane claims. Be well and be safe this hurricane season. 1